Meet the Team
Surrounding ourselves, our residents and our families with positive, compassionate, experts in Senior Living supports our mission of "Making a difference by cultivating purposeful connections-bringing joy and opportunity." That's why we select the highest quality candidates, true leaders that demonstrate our core values of Wisdom, Excellence, Purpose, Innovation, Integrity, Grace, Gratitude, and Synergy to join our Amaran Team.
Karilee Baird
Director of Operations
With a love for and desire to make a difference in the lives of seniors, Karilee Baird knew from an early age that she wanted to work in Senior Living.
Karilee began her career working as a Certified Nursing Assistant and quickly promoted up, working in various roles from Activity Director to Sales & Marketing Director, before being asked to serve as an Administrator, at the young age of twenty-three.
Through the years Karilee has continued to grow her career while gaining invaluable experience in the role of Regional Director of Operations and Director of Innovation and Education.
Karilee has a love for learning and spends time reading daily, which she credits for her servant leadership style and ability to bring out the best in the people she works with. Karilee's mantra is "Do the right thing and the right thing will happen". Something that she has proven to be true time after time.
In her spare time, Karilee enjoys hanging out with and going on adventures with her family, working on all kinds of crafts, and discovering new hobbies.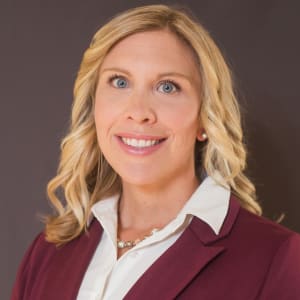 Carrie Bergs
Sales and Marketing Director
Born and raised in Albuquerque, Carrie had an extraordinary childhood surrounded by her family and her grandparents in a community that she loves.
It was from the many summers she spent with her grandparents, that Carrie grew her passion for helping others and giving back to those around her. At a young age, Carrie started volunteering at a nursing home, devoting her evenings to making the seniors laugh and bringing joy through activities. As Carrie grew, she continued volunteering through high school and decided that a career serving seniors was what she wanted to do.
Carrie started working in the same nursing home she volunteered at as the Activities Director. Carrie went to college and completed her undergraduate degree in Human Services and Management. Her work in Eldercare for the past 20 years has influenced her mission and devotion to helping seniors age in place with the best care possible.
Carrie loves the outdoors; you can often find her out riding horses, spending adventurous weekends camping in the mountains, or playing sports with her family. Carrie has three outgoing boys and a loving partner where she lives in Rio Rancho with all her farm animals
Gina Fox
Intergenerational Montessori Director
Gina Fox discovered her love for Montessori almost a decade ago as a Montessori classroom assistant. Since then, Gina trained and graduated in the first cohort of Primary Study Guides from the New Mexico satellite campus of the Southwest Institute of Montessori Studies. Gina took on the role of Primary guide (teacher) in her own classroom at Montessori One as Amaran Senior Living was being developed by the Patel family. While Gina has loved her role as a guide, she is ready to take on the consulting role of Intergenerational Montessori Director (IMD) at Amaran.
As the IMD, Gina will help integrate Montessori in a one-of-a-kind program. Through observations, engagement, and understanding of each residents' abilities, skills, and past she will work collaboratively with the Amaran team to design activities, or "works", to engage both residents and students from Montessori One with the goal to help reduce or delay the signs of memory loss and aid in maintaining independence.
Gina is an Albuquerque native. She and her husband, Jon, have a beautiful daughter together who is a student at Montessori One. Gina is also stepmom to 4 wonderful kids. She grew up in a very large, Irish Family and her grandmother, June, was the rock of the family. June was diagnosed with Alzheimer's in 2016 and, unfortunately, passed away in October of 2019. Since her grandmother's diagnosis, Gina has felt called to help other families keep their loved one as they know them for as long as possible.