Connection Programs at Amaran Senior Living
Cultivating Active Connections
At Amaran Senior Living we believe each day is an opportunity to find new ways to engage purposefully and discover fun new activities. Through Active Connections, our residents find daily opportunities to express themselves creatively, connect with all generations, have fun and pursue wellness with activities that are tailored to meet their individual interests.
We take the time to learn what each individual resident's interests and passions are as well as what they are most interested in learning or developing. Our Activities Director then draws inspiration from the answers to shape a robust, customized calendar of events and activities.
Activities
If a resident has an idea for an activity or program, we collaborate with them in developing, promoting and leading it. We believe an enriched, purpose-filled life can be lived at any age – and we are committed to helping our residents achieve it.
Active Connections includes:
Individualized Resident Engagement Plans
Resident Engagement Software
Inter-generational Involvement
Posted Activity Calendar
Volunteerism
The 8 Dimensions of Wellness
Opportunity for Residents to Participate in Initiatives That Help the Environment
Resident Council
Welcoming Committee
Love Your Neighbor
Resident Handbook
Culinary Connections
Amaran strives to create exceptional dining experiences for our residents through our dining service program, Culinary Connections.
Based on a strong belief in supporting local culture and community, delivering the highest quality of food, and an eagerness to satisfy our residents; Culinary Connections helps stave off boredom, integrates seasonal favorites and creates a platform for Amaran's Director of Dining Services and guest Chefs to showcase bold and innovative dishes.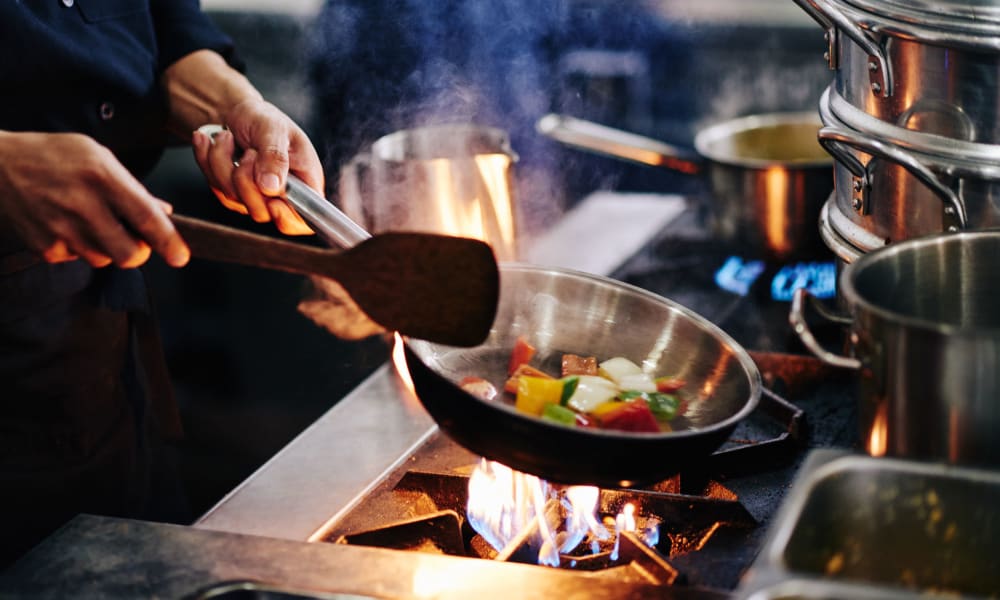 A Dining Experience
Menus featuring locally sourced and from-scratch meals are designed by dieticians to help meet most residents' typical dietary needs while multiple dining venues provide diversity and choice. From room service to theater dining, our residents can find a dining experience for whatever suits their mood.
At Amaran Senior Living it is more than just three meals a day, it's a dining experience.
Culinary Connections Includes the Following:
A Farm to Table Influence
Locally Sourced Fresh Produce
Local Beers on Tap
Resident Favorites
Multiple Dining Venues with Expanded Dining Hours
Scratch Cooking
Menus Designed by Dietitians that Highlight Local Foods
Visiting or Hosting Local Farm Vendors
Cooking Demonstrations that Highlight the Local Foods
Service by Trained and (Food Handlers Cards) Certified Team Members
Dining Table Centerpieces that Include Fresh Herbs, Flowers or Elements from the Local Area, When Available
Monthly Resident Dining Services Meetings with the Dining Services Director
Special Event Dining Both for the Resident's Special Events and for the Community Special Events
Room Service
Theater Dining
Pastries, Donuts, and Desserts Made by Local Restaurants Available in the Café
Purposeful Connections
At Amaran Senior Living we believe physical health is just one piece of a person's wellness. Wellness can mean different things to different people. For some wellness is found in excellent healthcare support. To others wellness may mean engaging in purpose-filled activities that create joy. To support our residents in their pursuit of total wellness Amaran Senior Living has Purposeful Connections.
Purposeful Connections is a program based on 5 intentions: (1) Making a difference; (2) Cultivating; (3) Purposeful; (4) Connection; and (5) Joy and Opportunity. Each step focuses on creating a unique and individual approach to a resident's total wellness.
A Deep Understanding
From nutrition and discrete personal support, to physical and mental fitness, to learning and social opportunities Amaran's approach to wellness is an attempt to having a deep understanding of each individual we serve. Cultivating individualized care and engagement plans with the desire to have the highest standards ultimately can influence the joy our residents may feel on a day-by-day basis.
Through Purposeful Connections, residents, families, staff and care providers work together to engage Amaran residents with varying degrees of activity. Developing a unified approach to wellness and creating opportunities for a richer environment for all.